Water Damage in Portland
911 Restoration of Portland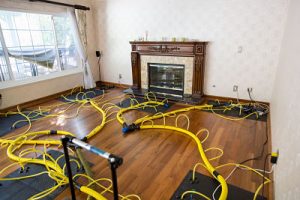 It is no surprise to those living in Portland that the frequent rain activity can have a devastating impact on the homes and businesses in the city. To successfully maintain your property in Portland, you must be prepared for water damage.
The winter months bring bouts of heavy rainfall, with November through January being the wettest period.
911 Restoration of Portland understands that flood damage restoration needs to be handled efficiently to prevent permanent structural damage and mold growth.
At 911 Restoration of Portland, we offer a Fresh Start with our comprehensive selection of property damage restoration services, including but not limited to:
Whether you're a Portland homeowner or business owner, 911 Restoration of Portland is your Fresh Start! We'll communicate with you throughout the entire process, help answer questions related to insurance, and restore your property to its pre-damaged condition. One of our IICRC-certified teams is dispatched within 45 minutes of your call! Contact us today, and one of our friendly representatives will assist you in finding the nearest Portland location.
The water restoration crew guarantees to be at your door within 45 minutes of receiving your call for emergency flood cleanup services.
We want you to feel confident reaching out to us no matter when you need flooding cleanup services, which is why our staff is available 24/7/365 to offer assistance.
911 Restoration of Portland works with IICRC-certified technicians, and we are licensed, bonded, and insured to implement the highest quality water damage restoration services to property owners in Portland. It is important to us that everyone is on the same page with the restoration process, so we provide property owners with a free visual inspection and estimate.
Gary Crook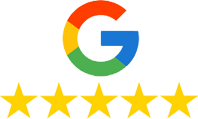 911 Restoration was a great company to work with. Their employees were very courteous and knew how to complete the work on time and to make sure it was done completely and professionally. I could not have asked for more. The project manager was wonderful to work with, very well versed and made sure the work was complete and done correctly. I recommend this company highly.
Water Damage Restoration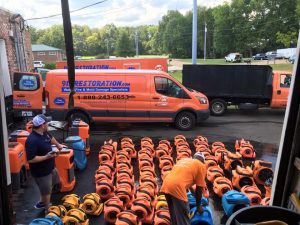 The storm systems that tear through Portland in the winter can be especially damaging to homes and small businesses that are not prepared to take on the impact of heavy rain and powerful winds.
The rainfall can cause water damage to wood structures and eventually cause mold growth on walls, ceilings, and other surfaces. To prevent structural damage and mold growth, our experts use top-of-the-line equipment for flood damage restoration.
On top of offering flood clean-up, our technicians also make sure to find the source of the invading water and make the appropriate repairs to prevent residual damages.
Our Water Damage Portland team understands that it is essential to get living spaces sufficiently clean after a flood.  However, sometimes it can be hard to hire the right company when you have concerns about the price of the water remediation. To put your mind at ease, the technicians will provide property owners with a free visual inspection that includes an estimate to make sure that you understand the scope of the work before they begin.
911 Restoration of Portland wants the water damage restoration process to be as comfortable as possible.  Call us when you need emergency flood cleanup services, and we will walk you through the entire ordeal, one step at a time.
Service area map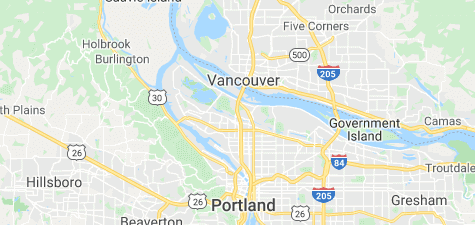 Sanitization Services & Disinfection Solutions
The coronavirus (COVID-19) has changed life as we know it.  In Portland, Oregon, families, and friends are quarantining themselves at home. Businesses are discontinuing certain services.  As this pandemic continues, the best thing to do is to isolate ourselves if possible, practice social distancing and wash our hands as much as possible and as thoroughly as possible. As a city, we need to follow these guidelines to help flatten the curve and reduce the spread of the coronavirus. This is especially true if you suffer from water damage in Portland.
Businesses are hurting like never before, the economy is taking a hit and there is fear and uncertainty about what lies ahead. At 911 Restoration of Portland, we know what you're going through. We want to help sanitize and clean our community as well. We are now offering professional sanitization services for your home or business. Our IICRC-certified specialists are highly trained and follow all the protocols set forth by the CDC and the EPA. We will come and do a deep cleaning of your property to help sanitize it and give you the peace of mind you need right now.
Mold Removal
Mold and fungi often thrive in parts of the property that you can't always see, which is why you should be aware of the other signs that mold is living in your space.
Our repair technicians have both the experience and the skill set needed to clean every corner of your home thoroughly. The mold experts know that even if you can't see dark patches on any surfaces of your home, you might still be able to smell the mold.
We are meticulous with our procedures. In fact, it is our top priority to leave your home looking and feeling like it was never affected by an infestation. Call our Mold Removal Portland technicians when you suspect mold on your property, and we will go the extra mile to give you the fresh start you deserve.
Sewage Cleanup
Raw sewage is a highly toxic material. It can contaminate your home, food, and anything else that comes into contact with it. When dealing with a sewage backup, it is essential to call professionals for help.
When you have a pipe burst that floods your basement, it goes without saying that you need help, fast. 911 Restoration of Portland is trained to provide safe sewage cleanup services to property owners throughout the community.
Since sewage poses a variety of health risks to anyone who comes in contact with it, our crew members wear full HAZMAT gear and use high-tech machinery to remove all wastewater from the property and dispose of it correctly.
Our Portland sewage professionals use industrial-strength products to remove black water and the odor that it creates on your property. Sewage restoration can be a dirty job. There is no reason you should have to deal with it on your own. Call our sewage cleanup Vancouver unit today, and we will get your property looking and smelling fresh again no time.
Fire Damage Remediation
Once the flames on your property have been extinguished, call us. Our Portland crew can start restoration services immediately.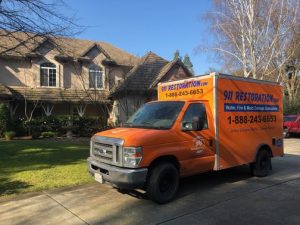 When you have a fire, you are not only left with blackened, charred areas of your home and sooty debris.  Consequently, there can also be large amounts of water leftover from fire hoses.
Furthermore, our technicians will perform advanced restoration techniques and water cleanup functions that deal with all aspects of fire damage.
Our repair technicians always put the customer first.  We offer emergency pack-out and storage services. We'll also assist with the filing of your insurance claim if need be.
If you've recently had a fire in your home or business, call us for immediate fire restoration Portland services as soon a the fire department has left your property.
Disaster Restoration
Natural disasters can damage your property in many different ways.  The main ways most property owners experience disasters in Portland are through earthquakes and floods.
If you experience flood damage or structural issues caused by any disaster, you can depend on the technicians at 911 Restoration of Portland to arrive quickly to implement restoration services.
Our goal is to get your property looking like a disaster never happened. Call 911 Restoration of Portland today. Our technicians will show you how a disaster can actually become a fresh start.
Serving the communities of Aloha, Astoria, Battleground, Beavercreek, Beaverton, Boring, Brush Prairie, Camas, Canby, Castle Rock, Clackamas, Clatskanie, Corbett, Cornelius, Dallas, Damascus, Dundee, Estacada, Fairview, Five Corners, Forest Grove, Gladstone, Gresham, Happy Valley, Hazel Dell North, Hillsboro, Hood River, Hubbard, Kalama, Keizer, Kelso, La Center, Lake Oswego, Longview, Manzanita, Marylhurst, McMinnville, Milwaukie, Molalla, Mount Angel, Mulino, Newberg, Oak Grove, Oatfield, Oregon City, Portland and surrounding areas.