Mold Removal in Clackamas
If you need mold remediation in Clackamas, don't attempt to handle it yourself. Do-it-yourself mold removal only leads to recurring infestations, increased health risks, and expensive damages. Instead, call the certified mold specialists at 911 Restoration of Portland.
Our friendly mold decontamination experts don't just get rid of the growth. They give you a Fresh Start. This means repairing all damages, replacing destroyed structures, and resolving the root of the problem so fungus doesn't return. The average property owner cannot accomplish these things with home remedies for mold removal. 
Our mold cleanup technicians are so effective because they're highly trained and IICRC certified. They use the most advanced methods and cutting edge tools to battle your mold infestation. From mold inspection to structural dehumidifying, they know exactly how to eliminate every growth and leave your property stronger than ever.
911 Restoration of Portland is licensed, insured, and bonded. We serve both residential and commercial property owners with comprehensive mold inspections and mold cleanup. The company is locally owned and operated, so you can trust that our operations are run by a neighbor… someone who cares about you and the wellbeing of the community. In fact, you can rest assured that every mold decontamination technician takes your situation personally. After all, we all know how we'd feel if we were in your shoes. 
We'd feel stressed. Frustrated. Like the home or business we'd worked so hard to build had been taken over by a nasty fungus.
We don't want you to feel this way anymore, and our mold remediation crew makes sure you don't have to. For fast solutions, peace of mind, and a Fresh Start, call 911 Restoration of Portland today.
Comprehensive Mold Removal Services
Wondering what to expect from professional mold remediation services? Let us clarify.
A quality mold decontamination contractor like 911 Restoration provides a multi-step process. We do far more than mold cleanup, because we want to help protect you against mold in the long term, not just fix your mold problem today. 
First, our technicians conduct a thorough mold inspection to uncover every growth on your property. Some property owners want to skip this step because they already know where their infestation is. But skipping the mold inspection is risky. Mold reproduces through airborne spores. This means an infestation in one area can spawn a second colony hidden somewhere else. Our mold inspection ensures elimination of your entire mold problem.
Then, the crew does the obvious part: mold removal. Now, this is very different from scrubbing  at a growth with a bleach-soaked sponge. Our experts conduct mold decontamination using professional tools and techniques to prevent the spread of mycotoxins.
After mold removal, the workers do something called "structural dehumidifying." This is a process through which they dry the structure to its core. Because mold spores need a damp surface in order to start a new colony, dehumidifying helps your property resist a new infestation. And that's not the only long-term solution our techs take care of. They also repair damages left by a mold infestation. From carpet removal to drywall replacement, they do it all.
The ultimate goal is to make your property a refuge once again. For truly effective mold removal in Clackamas, call the company who has you covered every step of the way. Call 911 Restoration of Portland.
Black Mold Cleanup in Clackamas and the Surrounding Communities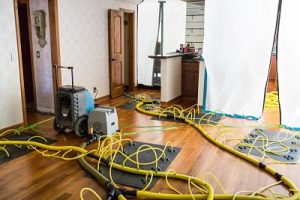 Just about any property owner who spots a patch of dark mold on their wall has the same worried question:
"Is that black mold?"
If you think you have black mold in your home or business, stop searching for images online. Stop reading tips for identifying toxigenic fungus. Just call a certified mold decontamination expert for a mold inspection.
Why is this the best course of action?
For one thing, black mold is tricky. It usually looks a certain way, but it doesn't always look a certain way. And when you attempt to diagnose your own mold problem, you put yourself at risk of ignoring a potentially dangerous infestation.
For another thing, most varieties of mold are harmful to your health in one way or another. Yes, black mold is the most concerning type of mold. Its toxigenic properties can lead to health problems as serious as heart issues if you wait too long on mold remediation. However, this does not mean black mold is the only mold deserving of immediate attention. Most varieties are either allergenic or pathogenic, meaning they can still cause issues such as asthma, allergies, and illness.
If you have a mold infestation—or if you suspect you have one due to headaches or dizziness—call 911 Restoration of Portland for mold remediation today.
Servicing the cities of Aloha, Battleground, Beavercreek, Beaverton, Boring, Brush Prairie, Camas, Canby, Clackamas, Clatskanie, Corbett, Cornelius, Dallas, Damascus, Dundee, Estacada, Fairview, Five Corners, Forest Grove, Gladstone, Gresham, Happy Valley, Hazel Dell North, Hillsboro, Hubbard, Kalama, Keizer, Lake Oswego, Longview, Manzanita, Marylhurst, McMinnville, Milwaukie, Molalla, Mount Angel, Mulino, Newberg, Oak Grove, Oatfield, Oregon City, Portland, Ridgefield, Rockaway Beach, Salem, Salmon Creek, Sandy, Scappoose, Seaside, Sheridan, Sherwood, St. Helens, Sunnyside, Tigard, Tillamook, Troutdale, Tualatin, Vancouver, Vernonia, Washington County, Washougal, West Haven-Sylvan, West Linn, Wheeler, Wilsonville, Woodburn, Woodland, and surrounding areas.