Water Damage and Mold Removal in Estacada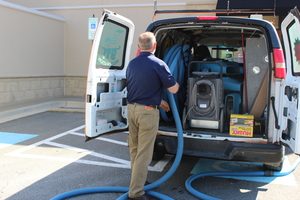 When a pipe burst or winter storm leaves you with a flooded property, you don't have a moment to waste. You need water clean up service, and you need it now. Fortunately, you can always count on 911 Restoration of Portland in an emergency. We provide 24-hour water damage restoration in Estacada and the surrounding area. Our IICRC certified flood cleanup technicians are even available on weekends and holidays. And they're at your door in 45 minutes or less, guaranteed.
You can always count on receiving the highest quality of service from 911 Restoration. Every one of our water damage restoration techs has been extensively trained in flood cleanup. They handle every task necessary to make your property brand new again. From sewage cleanup to roof repair to mold inspection and mold remediation, they truly do it all.
We also go the extra mile to provide clarity throughout a sometimes mystifying process. We know that when you've had a pipe burst or any other water disaster, you may feel overwhelmed by everything that must be done to restore your property. We not only take care of every water damage restoration service; we also help with concerns like insurance. A friendly staff member sits down with you for a free insurance consultation, explaining which services are covered under your insurance policy. Then, they assist with loss itemization, file your claim for you, and bill your provider directly.
At 911 Restoration of Portland, our goal is to deliver immediate peace of mind and lasting solutions. Let us be your first and only choice for mold removal and flood cleanup in Estacada and beyond.
Comprehensive Water Clean Up Service
As you stand horrified, watching water fill your property after a pipe burst, your mind reels with questions. What now? How do you fix this disaster? What will it take to make your beloved property feel like a refuge again?
Take a deep breath and call 911 Restoration. We're not just a water extraction company. We get rid of the water, repair the damage, and leave your home or business stronger than ever. And while each incident is a little different, here's a quick look at what you can expect when our water damage restoration crew arrives.
Right away, the flood cleanup workers assess the situation. They strategize the best course of action to minimize damage. If water is still flooding your home or business, their first task is to stop the flow. This could mean emergency boarding up, leak detection, or roof repair. They also pack out and store any items that appear to be in harm's way. Once they've prevented more water from entering, they remove the existing water or sewage. Then, the water damage restoration crew dries the area completely using professional fans. 
While some water removal companies might stop here, we take the extra steps necessary to fully restore your property. The crew conducts a thorough mold inspection to ensure you don't get stuck with long-term mold damage. If they discover an infestation, they handle mold decontamination safely and effectively. 
The workers also perform a water damage inspection to make sure your property still stands strong. Pipe bursts, house flooding, and other water disasters can cause a wide range of damage. Whether it's a collapsed roof, warped floorboards, or rotted drywall, our technicians repair it, replace it, or restore it.
Whatever you've been through, we're here for you from beginning to end. Call 911 Restoration of Portland for a Fresh Start.
Black Mold Remediation in Estacada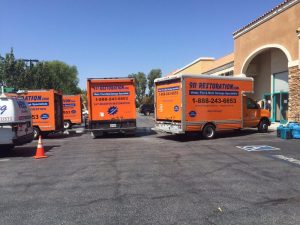 Worried about black mold? It's a common problem in Estacada and the surrounding area. Frequent wet weather leads to regular mold development, including dangerous infestations such as black mold. If you believe there is mold in your home or business, keep a safe distance from the infestation and call a certified mold removal company. The mold remediation crew at 911 Restoration provides safe and thorough mold decontamination for all species.
It is especially important to pursue mold removal for a black mold infestation because this variety is toxigenic. The fungus releases mycotoxins that can cause serious health issues when inhaled. You may recognize black mold as a black-green fungus with a slimy appearance. However, its appearance may vary, so your safest option is to order a mold inspection when you discover any fungus on your property.
Our mold inspection crew examines every square inch of your property for harmful colonies. In fact, our mold remediation workers conduct a mold inspection even if you already know where the growth is. This is because mold in one area of your home or business can spawn a second colony elsewhere through airborne spores. A comprehensive mold inspection is key for effective black mold remediation.
After the mold removal process is complete, our technicians protect your property against future toxigenic infestations. They do this by dehumidifying the structure where the fungus grew. If that structure is left damp, black mold spores remaining in the air can return and start a new colony.
A toxigenic mold infestation is a serious problem, but with 911 Restoration, you have a solution you can trust. For safe, quality mold remediation, call us today.
Servicing the cities of Aloha, Astoria, Battleground, Beavercreek, Beaverton, Boring, Brush Prairie, Camas, Canby, Castle Rock, Clackamas, Clatskanie, Corbett, Cornelius, Dallas, Damascus, Dundee, Estacada, Fairview, Five Corners, Forest Grove, Gladstone, Gresham, Happy Valley, Hazel Dell North, Hillsboro, Hood River, Hubbard, Kalama, Keizer, Kelso, La Center, Lake Oswego, Longview, Manzanita, Marylhurst, McMinnville, Milwaukie, Molalla, Mount Angel, Mulino, Newberg, Oak Grove, Oatfield, Oregon City, Portland, Rockaway Beach, Salem, Salmon Creek, Sandy, Scappoose, Sheridan, Sherwood, St. Helens, Sunnyside, Tigard, Tillamook, Troutdale, Tualatin, Vancouver, Vernonia, Warrenton, Washington County, Washougal, West Haven-Sylvan, West Linn, Wheeler, Wilsonville, Woodburn, Woodland, and surrounding areas.