Mold Removal in Gresham
Do you need mold remediation in Gresham? Then you need 911 Restoration of Portland. Our IICRC certified technicians provide truly comprehensive mold decontamination. What does this mean?
It means our crew begins every job with a complete mold inspection. They are careful to uncover every colony before starting mold cleanup. Then, they use the safest and most effective techniques for mold removal, eliminating your infestation entirely. Our crew also takes preventative measures like structural dehumidifying to make sure the growth doesn't return. And if you need any repairs—from carpet removal to drywall replacement—we've got it covered.
Mold does so much more damage than many property owners realize. A colony eats away at the structure of your home or business. It doesn't take long for a minor infestation to become a major destructive force. Whether it's a brand new problem or a full-blown disaster, 911 Restoration is on your side.
Our mold remediation technicians work hard to give you immediate peace of mind. They hold themselves to the highest standards and are transparent about the process and costs. To us, you're not just another invoice. You're a neighbor trying to reclaim your property from contamination. We're here to help. We get rid of the mold, get rid of the cause, and rebuild so you and your property can experience the joy of a Fresh Start.
For all your mold remediation needs, call 911 Restoration of Portland.
Expert Mold Inspection in Gresham
Is there a mildew-like odor coming from behind your walls? Have you been experiencing unexplained dizziness or headaches? Did you recently experience a water damage incident?
Whatever reason you have for suspecting a mold infestation, you should get a mold inspection right way. Mold thrives in hidden places. And the longer a colony goes unnoticed, the more costly your damages will be. Not to mention, mold releases harmful particles into the air you breathe. Prolonged exposure can lead to health issues ranging from allergies to heart conditions.
This is why our mold decontamination crew takes mold inspections seriously. They examine your property thoroughly, careful to check for mold in your walls, down your pipes, and in all the secret nooks where stored moisture welcomes mold growth.
A mold inspection is important even if you can see mold for yourself. Mold releases spores, which travel to other areas of your property on humans, pets, and through air ducts. When spores find a damp place to land, they create another mold colony. This means one infestation could signal the existence of another. A professional mold inspection is key for making sure every growth is eliminated during mold cleanup.
Without a thorough inspection, mold removal is very nearly a waste of time. 
Ensure lasting, effective mold decontamination. Call the mold cleanup crew at 911 Restoration of Portland for a comprehensive inspection and mold removal.
What About Using Cleaning Products to Remove Mold?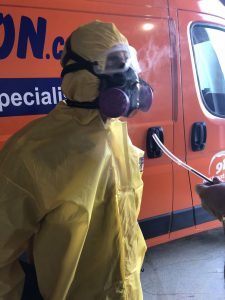 Many property owners wonder about home remedies for mold remediation. Can I use bleach to get rid of mold? Will carpet steaming remove mold?
The truth is that do-it-yourself mold decontamination methods are likely to fail. And even if you do kill mold with a bottle of bleach, you haven't solved the problem. You've only put a band-aid on it.
In an area like Gresham, mold is a constant concern. The wet weather and frequency of water damage means properties are often full of damp areas. It's in these damp areas that mold thrives. When you try mold removal using a household cleaner, you might get rid of that one colony. But mold spores are still in the air. And if they land on that same surface, you'll have the same problem all over again.
In fact, if you try to handle mold cleanup with carpet steaming, you'll only make matters worse. Mold spores remain in the fibers of your rug even after the colony itself has been cleaned away. And after carpet steaming, those spores have a damp space to thrive.
So that all clarifies why you shouldn't handle mold decontamination yourself. But what makes a professional mold remediation contractor different?
Certified mold specialists like those at 911 Restoration perform a couple extra service to make sure mold cleanup is complete. One of these services is a mold inspection. This is how the crew knows they're getting rid of your entire problem, not just one small part of it. Another important service is structural dehumidifying. This process involves using professional fans to dry the structure where mold grew. This step makes the surface inhospitable to mold spores, preventing a repeat infestation.
At 911 Restoration of Portland, we don't just want you to recover from a mold infestation. We want you to move forward, better and stronger than before. Call us today for the most comprehensive mold removal in Gresham.
Servicing the cities of Aloha, Battleground, Beavercreek, Beaverton, Boring, Brush Prairie, Camas, Canby, Clackamas, Clatskanie, Corbett, Cornelius, Dallas, Damascus, Dundee, Estacada, Fairview, Five Corners, Forest Grove, Gladstone, Gresham, Happy Valley, Hazel Dell North, Hillsboro, Hubbard, Kalama, Keizer, Lake Oswego, Longview, Manzanita, Marylhurst, McMinnville, Milwaukie, Molalla, Mount Angel, Mulino, Newberg, Oak Grove, Oatfield, Oregon City, Portland, Ridgefield, Rockaway Beach, Salem, Salmon Creek, Sandy, Scappoose, Seaside, Sheridan, Sherwood, St. Helens, Sunnyside, Tigard, Tillamook, Troutdale, Tualatin, Vancouver, Vernonia, Washington County, Washougal, West Haven-Sylvan, West Linn, Wheeler, Wilsonville, Woodburn, Woodland, and surrounding areas.