Mold Removal in Portland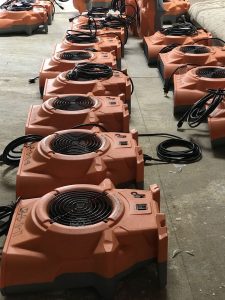 Dealing with a fungal infestation in a residential or commercial property is no fun at all. Fungal and mold infestations can cause a lot of property damage. Even worse, they can cause health issues for those who inhabit or frequent the property. If you're a home or business owner in Portland have an infestation issue on your hands, the team at 911 Restoration is ready to provide total property restoration and mold removal services.
Mold infestations typically occur due to water damage. At 911 Restoration of Portland, our mold removal team has received extensive training on detecting the water-damaged area. Once the water source has been identified, our team can provide water damage restoration and mold removal services.
Disaster seems to strike at the worst time possible. However, Portland residents can rest easy knowing that our mold removal experts are available 24/7/365. As soon as you suspect an issue, call our team to schedule an appointment for mold remediation and water damage restoration services. 
When it comes to mold removal services, it is important to reach out as soon as you suspect damage has occurred. These infestations have the potential to become worse the longer they sit. It is also important to reach out to the mold removal team at 911 Restoration instead of trying to remediate the issue yourself. Mold infestations can be worse than they appear and can cause serious health issues, especially if black mold is present. Our team has the tools and equipment needed to provide mold removal and mold remediation services safely and efficiently.
Restore your peace of mind and get on the path to pre-damage condition by calling the team at 911 Restoration of Portland today!
Signs that Your Property Needs Mold Remediation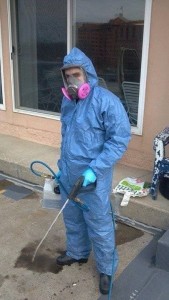 Mold infestations often go undetected. However, there are a few signs to look for on your property that can help determine whether or not mold removal services are needed. Some mold infestations can be hazardous to the health of those in the area, so it is important to contact our mold removal team for cleanup.
At 911 Restoration of Portland, we want property owners to be aware of the signs and symptoms of mold and fungal infestations. Our main priority is keeping you and those on your property safe. Knowing the signs can help to determine where infestations are present and whether or not water mitigation Portland services are needed. Signs that you should call our team for mold removal and mold remediation services include:
Odors. Many property owners detect mold from a musty odor in the air that they can't seem to get rid of. If there's an area on your property that smells musty, it could mean mold growth. Check around areas like the water heater or AC unit for water leaks. Leaks in these areas commonly go unnoticed. However, keep in mind that not all mold puts out an odor.
Cold-like Symptoms. Mold can take a toll on the health of those who frequent your party. It's common to think you have caught a cold or are just feeling under the weather. However, if these cold-like symptoms persist, mold removal services could be required. Symptoms commonly include coughing, sore throats, watery eyes, congestion, and difficulty breathing.
Stains or Discoloration. Contrary to popular belief, mold is not always black in color; it can also be yellow, brown, or copper. Be sure to check your ceiling, tiles, walls, and bathrooms for discoloration.
Mold remediation is just a phone call away for Portland area residents and business owners. Knowing the signs of an infestation can help you to catch mold in the early stages and prevent the need for additional restoration services.
Water Damage Restoration Services Help Prevent Mold
Mold infestations typically occur because of undetected water damage on a property. In order for mold to colonize, the spores need a Water Mitigation Portland source. Mold can start to grow within 12 hours of sitting water. At 911 Restoration of Portland, we provide water damage restoration services that help property owners avoid the need for mold removal.
When property owners choose our team for water damage restoration services, benefits include:
Emergency water extraction
Complete property restoration
Free insurance consultation
Whether your property needs water damage restoration services or mold removal, the team at 911 Restoration of Portland is ready to provide total property restoration. We have the knowledge, training, and equipment needed to get properties back to their pre-damage condition and give owners peace of mind. Call our trusted team in Portland today!
Serving the communities of Battleground, Camas, Clackamas, Gresham, Hazel Dell North, Hillsboro, Keizer, Portland, Ridgefield, Salem, Sandy, Seaside, Sheridan, Sherwood, Vernonia and surrounding areas.