Water Damage and Mold Removal in Portland
You can't control when water damage strikes. A pipe burst could happen at 2:00 in the morning. A storm could rock your storefront on Christmas Eve. And whenever you're hit by a water disaster, you need water clean up service immediately. The longer water sits on your property, the more costly your damages will be. Fortunately, 911 Restoration of Portland is here for you. We provide flood cleanup in Portland 24 hours a day, every single day of the year. And when you call, we're there in 45 minutes or less, guaranteed.
Our water damage restoration technicians also handle mold inspection, mold remediation, and full property repairs. You can call them in any disaster, from pipe bursts to sewage backups to mudslides. Every flood cleanup technician is IICRC certified and has been fully trained for any disaster. They even handle structural repairs.
At 911 Restoration, we take great pride in our community. This means you can expect to be treated like a neighbor, not another invoice. Your dedicated water damage restoration crew makes your peace of mind their first priority. Expect clear communication, honest treatment, and the highest standard of service. 
When you work with us, you don't even have to handle your insurance claim yourself. Our water damage restoration staff provides a free insurance consultation to explain your benefits. They clarify which services your provider is responsible for, from water extraction to mold decontamination. Then, they give you a hand with loss itemization and even file a claim on your behalf. You don't have to worry about a thing.
Whether it's a pipe burst, house flooding, or black mold infestation, you can rely on 911 Restoration for compassionate service. We know what you're going through. And we know how to make it right.
Call today.
Emergency Water Damage Restoration in Portland
Whether it's your home or business, one thing is certain: your property is a refuge. It's a testament to your hard work. It is one of your greatest assets, and when you need water damage restoration, you need a water extraction company who takes your disaster personally.
Our flood cleanup crew treats your home or business as if were their own. This is clear from the moment your call comes in. The water damage restoration techs leap into action, arriving at your property in 45 minutes or less, day or night. 
Their first goal is to minimize your damage so you don't get stuck with costly repairs. Right away, they identify any items that could be at risk of further damage. They pack those belongings and store them away for safe-keeping. Then, they handle whatever emergency service you require, including water extraction, sewage cleanup, roof repair, storm repair, or boarding up. Once all water is removed from your property, the technicians bring in professional fans to dry the structure to its core.
At 911 Restoration of Portland, we're determined to give you a Fresh Start. By the time the technicians leave your property, there should be no sign of a recent pipe burst. This is why flood cleanup always concludes with a water damage inspection. The water damage restoration workers conduct structural testing and a mold inspection. If they discover any damage, they handle repairs and mold removal personally.
In any disaster, let 911 Restoration of Portland be the first and only call you make.
Removing Mold in Walls from Water Damage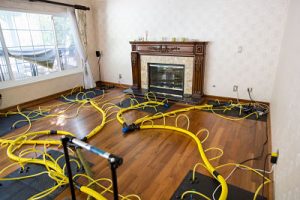 Portland's wet weather has given our community some pretty incredible roses, but it can wreak havoc on our properties. Any dampness in your home or business could easily give rise to a mold infestation. And if you've recently experienced a water damage incident, your property is at an even higher risk of mold growth.
Because water can seep into hidden places, mold often grows inside walls and other unseen spaces. This is why you should contact a mold inspection professional after a water damage incident. Our mold remediation crew is relentless in their mold inspection, paying close attention to those inconspicuous spaces where mold tends to thrive. 
Once they're satisfied they've found every growth, our mold removal specialists get rid of the colony using the safest methods and tools. Even if you can see mold growing in plain sight, it is essential to call on a certified mold remediation contractor for mold decontamination. Believe it or not, it can be dangerous to attempt mold removal yourself. Disruption of the colony forces the release of mycotoxins and other dangerous particles. Our mold remediation staff has undergone extensive training in the art of cautious and effective mold removal.
After they've eliminated the fungus, our technicians dry the structure completely. This process is necessary for preventing future growth.
If you need mold remediation in Portland or the surrounding area, you can trust 911 Restoration for safe, effective service. Call now and breathe easy.
Servicing the cities of Aloha, Astoria, Battleground, Beavercreek, Beaverton, Boring, Brush Prairie, Camas, Canby, Castle Rock, Clackamas, Clatskanie, Corbett, Cornelius, Dallas, Damascus, Dundee, Estacada, Fairview, Five Corners, Forest Grove, Gladstone, Gresham, Happy Valley, Hazel Dell North, Hillsboro, Hood River, Hubbard, Kalama, Keizer, Kelso, La Center, Lake Oswego, Longview, Manzanita, Marylhurst, McMinnville, Milwaukie, Molalla, Mount Angel, Mulino, Newberg, Oak Grove, Oatfield, Oregon City, Portland, Rockaway Beach, Salem, Salmon Creek, Sandy, Scappoose, Sheridan, Sherwood, St. Helens, Sunnyside, Tigard, Tillamook, Troutdale, Tualatin, Vancouver, Vernonia, Warrenton, Washington County, Washougal, West Haven-Sylvan, West Linn, Wheeler, Wilsonville, Woodburn, Woodland, and surrounding areas.