Sanitization Services in Portland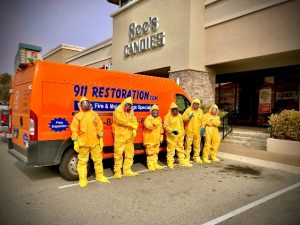 If you're a property owner, you may be feeling the stress of trying to keep your home or business clean during the coronavirus outbreak. The more we learn about the spread of coronavirus, the longer the list of essential prevention tactics becomes. And the importance of keeping our living and work spaces clean is undeniable.
If you are wondering whether your property needs a deep clean, the answer is yes. It doesn't matter whether you own a residential property or a commercial facility. If human beings pass through it, disinfection and sanitization are absolutely essential.
In the United States, we see more and more cases of coronavirus every day. Even as our cities put social distancing orders into place, we still cannot completely eliminate the threat of coronavirus from our homes and businesses. Retail stores such as grocers must remain open so people have access to food and other essential resources. Banks and healthcare facilities are also still in operation. And every individual who passes through these spaces has the potential to leave coronavirus behind on surfaces they touch.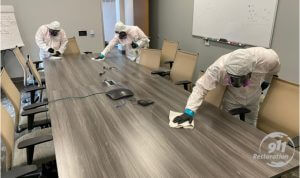 Unsanitized commercial properties can be especially hazardous at a time like this. Your business property brings members of the public together. Even if they do not visit your retail store or office building at the same time, one person can pick up a virus someone else left behind. And when one person is unknowingly exposed to coronavirus, they risk exposing everyone they encounter.
This is why your simplest day to day choices have the power to impact someone else in monumental ways. For some, coronavirus means a few days in bed. For others, it's a matter of life and death. And you never know which of these people might be affected by the conditions of your home or business.
Here's the silver lining: you're not in this alone. 911 Restoration of Portland is locally owned and operated, and we're as dedicated to cleaning our community as you are. Whether you need home disinfection or a deep office cleaning, let us be your go-to team. Our sanitization and disinfection technicians provide a thorough cleaning so you and your customers can enjoy peace of mind. The entire team is trained to follow CDC and EPA protocols. Our staff is also deeply sensitive to the worries that weigh on property owners at this challenging time. You can count on 911 Restoration for truly compassionate service and open communication.
Portland has always been strong, and getting through this pandemic is not a question of if, but when. In the meantime, 911 Restoration is here to provide expert sanitization, disinfection, and peace of mind.