Mold Removal in Portland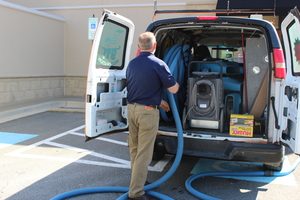 If you need mold removal in Portland, don't put it off another day. Fungus not only thrives in our wet climate but also reproduces easily in hidden areas of your property. Mold on your ceiling can lead to mold growing in your walls on the other side of the house. Don't make the mistake of thinking you've got a handle on your mold infestation just because you can see it. Instead, call 911 Restoration of Portland for a comprehensive, reliable mold inspection.
Our mold decontamination technicians are the best in the business. The entire staff is IICRC certified in mold remediation and property restoration. These highly trained specialists don't just handle mold removal. They also repair and replace any material permanently damaged by mold. Whether it's replacing destroyed drywall or removing contaminated carpet, they do whatever it takes to make your property new again.
Along the way, our mold remediation staff is open and communicative. They know it can be hard to trust a stranger to preserve and protect your most valuable asset. That's why their first order of business it to put your mind at ease. They share everything they discover during the mold inspection and explain the best next steps for mold cleanup. You can count on your dedicated mold decontamination crew to be upfront about pricing and work hard to minimize damage.
As far as we're concerned, you're not just a customer. You're a neighbor who needs our help and deserves our most compassionate service. For caring, comprehensive mold remediation in Portland and the surrounding area, call 911 Restoration today.
Portland's Preferred Certified Mold Specialist
What makes 911 Restoration your best source for mold decontamination in Portland?
For one thing, our skilled mold remediation technicians hold themselves to the highest standards. For another thing, 911 Restoration is known for approaching every job with empathy and understanding. And of course, we provide the most comprehensive mold cleanup service around.
Mold removal requires far more than scrubbing at a growth. Mold is a relentless organism that can persist beyond sub-par mold cleanup efforts and cause long-term damage. Our technicians take every measure to ensure your mold problem is truly gone by the time they drive away.
First, our crew conducts a thorough mold inspection, paying close attention to any areas where mold is likeliest to thrive. A mold inspection helps ensure that every problem is found, identified, and eliminated. Then, the technicians handle mold removal using cutting edge tools and safe practices.
After the colony is gone, our professionals protect you from a repeat infestation through a process called structural dehumidifying. This involves drying the structure where mold grew completely, making it inhospitable to future growth.
Finally, the mold removal technicians test for any weakness or damage due to the infestation. Sometimes fungus weakens the surface on which it grows. Or a colony could leave a stain. Whatever the problem, we believe in turning your contamination issue into an opportunity for a Fresh Start. This means our experts repair, replace, and remove any destroyed material. 
Don't settle for standard mold cleanup. Call 911 Restoration of Portland and let us make your home or business feel cleaner and healthier than ever before.
Residential and Commercial Mold Remediation in Portland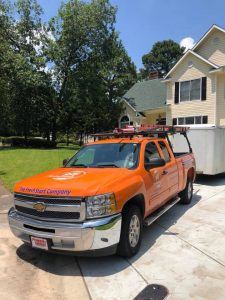 Mold contamination can feel like a disaster no matter what type of property you own. A fungal attack destroys the materials that make your home or business strong. The purpose of mold is to decompose organic materials. That means wood, glue, wallpaper… many of the materials that make your property solid and attractive. The longer you go without professional mold cleanup, the worse the damage becomes.
Prompt mold decontamination is also important for the sake of your health. Most types of mold are either allergenic, pathogenic, or toxigenic. This means they release particles that cause health problems when inhaled. Once again, the longer you put off a professional mold inspection and mold removal, the worse those problems will be.
These are major concerns for both residential and commercial property owners. If you're a homeowner, your family's wellness is at stake and your refuge is at risk of damage. If you're a business owner, waiting on mold remediation could mean closing your doors to deal with bigger mold-related issues further on down the line. Not to mention, a mold infestation is a danger to your employees, your customers, and yourself.
At 911 Restoration of Portland, we understand how important it is to get mold out of your property promptly and completely. You can trust our mold decontamination staff to treat your home or business as if it were their own.
For expert mold cleanup you can rely on, call 911 Restoration of Portland today.
Servicing the cities of Aloha, Battleground, Beavercreek, Beaverton, Boring, Brush Prairie, Camas, Canby, Clackamas, Clatskanie, Corbett, Cornelius, Dallas, Damascus, Dundee, Estacada, Fairview, Five Corners, Forest Grove, Gladstone, Gresham, Happy Valley, Hazel Dell North, Hillsboro, Hubbard, Kalama, Keizer, Lake Oswego, Longview, Manzanita, Marylhurst, McMinnville, Milwaukie, Molalla, Mount Angel, Mulino, Newberg, Oak Grove, Oatfield, Oregon City, Portland, Ridgefield, Rockaway Beach, Salem, Salmon Creek, Sandy, Scappoose, Seaside, Sheridan, Sherwood, St. Helens, Sunnyside, Tigard, Tillamook, Troutdale, Tualatin, Vancouver, Vernonia, Washington County, Washougal, West Haven-Sylvan, West Linn, Wheeler, Wilsonville, Woodburn, Woodland, and surrounding areas.