Mold Removal in Salem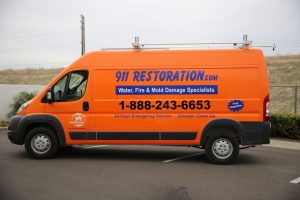 Beautiful parks, engaging local art, and friendly people—life really is pretty great in Salem. The only downside is the wet weather of the Pacific Northwest… and the nasty mold property owners battle as a result.
If your home or business is under fungal attack, don't worry. 911 Restoration of Portland provides comprehensive, effective mold remediation in Salem and beyond. Our mold removal technicians are IICRC certified and trained to meet the highest standards of service. They do everything it takes to make your infested property feel like the refuge it once was. In fact, they go above and beyond standard mold cleanup by providing structural and surface repairs.
At 911 Restoration of Portland, we believe in turning every challenge into an opportunity for a Fresh Start. Our mold removal technicians put that attitude to work when they restore your property. Their job isn't done until your property feels brand new, with no evidence that mold ever touched your home or business.
You can also trust your dedicated mold remediation crew to treat you with respect and compassion. They know how stressful a mold problem can be. They also know how hard it is to trust a stranger with your beloved property. Our experts work hard to earn your trust with regular communication and transparent business practices. 911 Restoration of Portland is licensed, bonded, insured, and locally owned and operated.
If you've been hit by a mold infestation, let us help you reclaim your property. For the very best mold removal in Salem, call 911 Restoration of Portland today.
Black Mold Cleanup in Salem
You've likely heard the warnings about the dangers of black mold contamination. Whatever you've heard, it's most likely true.
Black mold is a toxigenic fungus that releases mycotoxins into the air. When you breathe these particles in, they collect in your system, creating a state of toxicity over time. This can lead to a wide range of health problems, including allergies, respiratory issues, and even heart conditions.
While you should be on high alert if you discover black mold on your property, you do not have to be afraid. The mold decontamination workers at 911 Restoration are well equipped to handle black mold removal safely. All you have to do is keep a safe distance from the mold colony and call for a professional mold inspection. Also be sure to keep other humans and pets away from the affected area until mold remediation is complete.
It is very important that you do not attempt mold removal yourself. You may find home remedies online, but every method requires disruption the colony. Disruption forces the mold to release mycotoxins into the very air you breathe. In this way, DIY mold cleanup exposes you to greater health risks. Not to mention, household cleaning products are rarely effective at mold decontamination. And even when they do get rid of a growth, they cannot help you prevent a repeat infestation. Only certified mold remediation professionals can do that.
For black mold decontamination in Salem and the surrounding area, count on 911 Restoration of Portland. Our specialists put your wellbeing above all else.
Mold Remediation and Restoration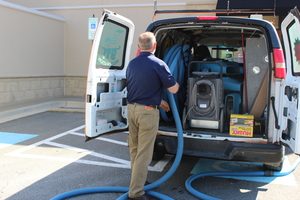 Mold is more than an unsightly blemish on your walls. It's a living organism that eats away at organic materials. In the context of your property, this means mold continuously breaks down wood, wallpaper, glue, and all the other materials that hold the structure together. If you've had a mold infestation for a while, simple mold cleanup isn't enough to restore your property. You need someone to help you repair and rebuild.
At 911 Restoration of Portland, we do it all so you only have to make one call for mold remediation and restoration.
When our crew arrives at your property, they conduct a thorough mold inspection. They examine all the nooks and crannies where mold loves to hide. A mold inspection is important for full restoration because any colony left undiscovered can cause serious long-term damage.
Once the mold inspection crew has found every trace of growth, they proceed with mold removal. After they've gotten rid of the growth, they dehumidify the structure to its core. Then, the mold decontamination workers check to make sure your property is still sound. Is your carpet contaminated by mold? Is your drywall weak? Is there a permanent stain on your ceiling? Whatever the issue, the mold removal team is trained to solve it. They can repair, replace, and restore any surface. By the end, your property is good as new.
Don't settle for anything less than a Fresh Start. Call 911 Restoration of Portland.
Servicing the cities of Aloha, Battleground, Beavercreek, Beaverton, Boring, Brush Prairie, Camas, Canby, Clackamas, Clatskanie, Corbett, Cornelius, Dallas, Damascus, Dundee, Estacada, Fairview, Five Corners, Forest Grove, Gladstone, Gresham, Happy Valley, Hazel Dell North, Hillsboro, Hubbard, Kalama, Keizer, Lake Oswego, Longview, Manzanita, Marylhurst, McMinnville, Milwaukie, Molalla, Mount Angel, Mulino, Newberg, Oak Grove, Oatfield, Oregon City, Portland, Ridgefield, Rockaway Beach, Salem, Salmon Creek, Sandy, Scappoose, Seaside, Sheridan, Sherwood, St. Helens, Sunnyside, Tigard, Tillamook, Troutdale, Tualatin, Vancouver, Vernonia, Washington County, Washougal, West Haven-Sylvan, West Linn, Wheeler, Wilsonville, Woodburn, Woodland, and surrounding areas.