Pipe Burst Hillsboro
Pipe burst emergencies can destroy buildings. Our pipe burst Hillsboro crew has over 354 years of experience, so 911 Restoration Portland has seen floods warp support beams and ruin carpets. We under stand how essential it is to respond within 45 minutes, so we are available 24/7. In order to better serve the houses in the community, we are licensed, insured, and bonded in:
Water removal
Sewage backup cleanup
Disaster restoration
Mold remediation
We are capable of all these disaster restoration services because often a frozen pipe will cause plumbing leaks that spread gray water throughout a property and result in a mold infestation. At that point we use the latest drying technology to start pumping water from the area, followed by a free inspection to spot mold and the best remediation techniques to perform mold removal. Our pipe burst Hillsboro team will get to work on sanitation and sewage backup cleanup to deal with the left over contaminates from the gray water.
A pipe burst is especially dangerous to the many large companies that are headquartered in Hillsboro, Oregon, such as Intel, Wells Fargo, and Yahoo! A single frozen pipe incident can shut down the whole building. This could have serious implications on over 17,000 jobs. Our frozen pipe Hillsboro experts make it their duty to quickly remedy a situation like this to keep the economy and the people it affects afloat. Call 911 Restoration Hillsboro when a water line breaks in your building and we will provide you with the best water damage restoration services at an affordable price.
Who do I Call if I have a Pipe Burst?
If your property suffers any water damage call our pipe burst Hillsboro specialists for same day service. We always put the customer first so we will make sure your get the emergency help you need quickly. As soon as we arrive we set up the latest drying technology to start pumping water out. We will turn off your main water line as well as the other utilities to mitigate the amount of damage your home suffers.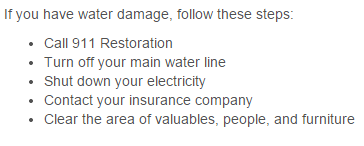 Speed is of the essence when it comes to a pipe burst because the longer you hesitate the more water it spreays into your drywall and carpets. One the situation is under control we will help you file your insurance claim because we are working with all insurance companies to provide you with the best water extractions at an affordable price. We will also inform you of ways to protect your home from future disasters, such as insulating your plumbing to avoid a frozen pipe burst or installing a sewage back flow valve to stop returning water from becoming a toilet overflow. These steps are important because according to the Insurance Information Institute, water damage is the third most common reason for insurance loss. Taking care of your home will help you avoid such disaster as well as ensure you get the most from your homeowners' insurance coverage.
When you need a fresh start in the city of Hillsboro from a frozen pipe Hillsboro disaster call our pipe burst Hillsboro staff.