Water Damage Canby, OR
Water damage is a cantankerous foe and must be dealt with immediately before severe destruction sets in, which is why our water damage Portland company will respond within 45 minutes of all calls offering fast, same day service performed by our water damage Canby crew. When standing water invades your home, your hardwoods, concrete, and dry wall can begin absorbing water like a sponge within a matter of minutes. This is why 911 Restoration is available 24/7 offering water damage restoration services because we know that a fast response time is vital to protecting your biggest investment—your home. Water damage can come from virtually anywhere, so you should always be prepared.

When our water damage Canby crew set out to perform water removal tactics we do so with special care because we know that our quality will reflect upon the community. We value professionalism and have over 35 years of experience restoring houses like yours after the worst disasters. With our IICRC certification, we can help you with all drying and clean up jobs. If you experience any kind of leaks, be it from a pipe burst or storm damage, call our water damage Canby team for professional water damage restoration.
Who do I Call for Water Damage Restoration in Canby?
Call our water damage Canby experts for water damage restoration any time you find leaks or floods in your home. If your roof or plumbing is leaking, you need the professional aid of 911 Restoration Portland to make sure further disaster, such as mold growth does not occur. We use the latest drying technology to quickly and efficiently flush moisture from your home. Water damage can come from fire sprinkler malfunctions, toilet overflow, and storms. Each event carries its own set of destructive potential and necessary remedies, but they all require you to act fast in getting a professional company on scene.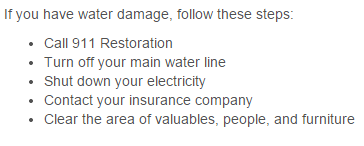 911 Restoration Canby works very closely with the city of Canby and we want to ensure our community members are safe and will be covered by their insurance when water damage disasters occur. We focus on quality and speed to get the job done at an affordable price. The longer water sits, the worse it gets. So call us immediately and our water damage Canby staff will tell you how to shut down your water line. We are available 24/7, so call us when disaster strikes and we will help you out. When rain storms do cause a roof leak, or you experience any other disaster like a water heater flood that rotted your floor or ruptured hoses that drenched your laundry room, call our water damage Canby team and we will even file your water damage claim to your insurance company!
Is Water Damage Covered by Insurance?
According to the research our water damage Canby crew pulled from the Insurance Information Institute, most homeowner's insurance policies cover water damage so long as negligence was not the root cause of floods. Any storm water that floods your crawl space would have to go through a supplemental policy offered by a private insurer, as standard homeowner's insurance does not cover outdoor water damage. You will also want to make sure you are up to date on your maintenance, including cleaning your rain gutters, installing a sewage back flow valve, and fixing plumbing leaks, otherwise your claim could get denied. Call our water damage Canby professionals when you are looking for help from the best water damage company because we are working with all insurance companies to get you the best price.
What is the Best Water Damage Company in Canby?
911 Restoration is the best water damage Canby company because we always put the customer first. We prove this by being available 24/7 to provide professional water extractions at an affordable price. We respond within 45 minutes to start pumping water from your home and our same day service includes a free mold inspection. We ensure your home is safe and healthy before we leave. 911 Restoration feels especially honored to provide our water extractions to this special community we care so deeply for. This beautiful region is an ideal place to raise a family for those who love sport, history, and the great outdoors. Home to the Clackamas County Fairgrounds, Canby has been hosting its famous rodeo since 1907. In order to preserve your home in the history books of Canby, call our water damage Canby operatives when you come home to floods and we will provide you with a fresh start.