Water Damage and Mold Removal in Dallas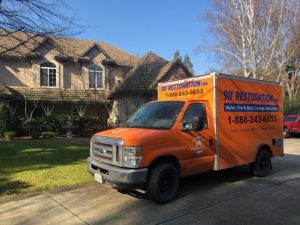 You don't have to try to handle a flood, sewage backup, or pipe burst in Dallas on your own. You can get professional help 24/7/365 by reaching out to 911 Restoration of Portland. All our Dallas water damage restoration and mold removal techs are IICRC certified to take care of property restoration.
You can count on us to reach your property within 45 minutes of an emergency call. Once flood cleanup and mold remediation techs arrive, they can assess your needs with a water damage and mold inspection in Dallas. Based on the results of your water damage and mold inspection, they can:
Start prompt water extraction

Use dehumidifiers to dry your property

Repair structural damage and handle odor removal

Complete total mold decontamination
Let us provide you with the mold remediation and water cleanup services you need after a pipe burst, snowstorm, or natural disaster right now.
How Quickly Should You Start Water Damage Restoration in Dallas?
You should begin water damage restoration and mold removal in Dallas as quickly as possible. Water causes increasing amounts of damage each hour it remains in your home or business. Fortunately, 911 Restoration of Portland can begin water extraction in under an hour.
Getting fast help with mold remediation and flood cleanup in Dallas can:
Reduce the total damage to your property

Lower the costs for water cleanup services

Cut down on the time to renovate your property
As a professional water removal company, we're standing by to begin water damage restoration and mold decontamination when you need it most. Find out more about how we can help you by allowing us to complete a water damage inspection for your home or business. 
Techs can also perform a mold inspection while handling flood cleanup and water removal. Mold grows fast in areas exposed to excess moisture, so let us check for indications of fungal growth right now.
Will Dallas Mold Remediation Stop Mold from Spreading?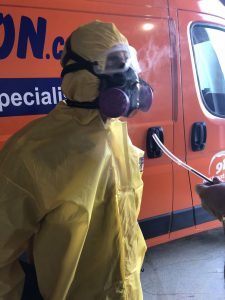 Mold grows quickly in damp and dark environments. A pipe burst, flood, or sewage backup can turn your property into the perfect area for a fungal outbreak. Once mold gains a foothold in your property, it can spread across surfaces and reach new areas by expelling spores.
Mold remediation in Dallas can stop mold in its tracks. Mold removal pros can set up air filters to remove mold spores, stopping them from reaching new areas of your home or business. Crews can also use plastic sheeting to physically quarantine areas with mold growth.
Taking these steps limits the damage to your property while crews take care of mold decontamination in Dallas. Let us identify all areas of your property infested with mold. Flood cleanup crews can perform a mold inspection for you right now.
We are a professional mold removal and water extraction company dedicated to bringing your property back to better-than-new condition. Get back your peace of mind after a flood, mold outbreak, or pipe burst by contacting us today. We offer same-day water damage restoration and mold decontamination services for you if you're dealing with house flooding, sewage backup, or a blizzard.
Servicing the cities of Aloha, Astoria, Battleground, Beavercreek, Beaverton, Boring, Brush Prairie, Camas, Canby, Castle Rock, Clackamas, Clatskanie, Corbett, Cornelius, Dallas, Damascus, Dundee, Estacada, Fairview, Five Corners, Forest Grove, Gladstone, Gresham, Happy Valley, Hazel Dell North, Hillsboro, Hood River, Hubbard, Kalama, Keizer, Kelso, La Center, Lake Oswego, Longview, Manzanita, Marylhurst, McMinnville, Milwaukie, Molalla, Mount Angel, Mulino, Newberg, Oak Grove, Oatfield, Oregon City, Portland, Rockaway Beach, Salem, Salmon Creek, Sandy, Scappoose, Sheridan, Sherwood, St. Helens, Sunnyside, Tigard, Tillamook, Troutdale, Tualatin, Vancouver, Vernonia, Warrenton, Washington County, Washougal, West Haven-Sylvan, West Linn, Wheeler, Wilsonville, Woodburn, Woodland… and surrounding areas.