Water Damage and Mold Removal in Dundee
Need mold removal or water damage restoration in Dundee? You've come to the right place. 911 Restoration of Portland serves the local area with expert flood cleanup and mold decontamination. We're there for you whether you own a business or a home, whether you've had a pipe burst or winter storm damage. Our IICRC certified water damage restoration specialists are trained in every aspect of property restoration, including structural repairs.  911 Restoration is more than a water extraction company. Consider us your guide to a Fresh Start.
Your peace of mind is our first priority. We prove it with 24/7 availability and a 45-minute guaranteed arrival time for water damage restoration. Our flood cleanup technicians anticipate every worry, providing solutions before you even have to ask.
Concerned about the cost of water damage restoration? Don't sweat it. We know how hard it is to make sense of your insurance when flood cleanup gets complicated. That's why we provide a free insurance consultation, explaining which services your provider pays for. Whether it's sewage extraction, structural drying, or mold remediation, we make sure you know what to expect financially. A staff member even helps with the paperwork so you're sure to get every benefit to which you are entitled.
911 Restoration is a licensed, insured, and bonded water removal company. We're locally owned and operated, so you can trust that when you call us, you're calling a true neighbor for help.
Whether you're dealing with a pipe burst, house flooding, or any other disaster, let 911 Restoration of Portland be your ally. Call us now for fast, friendly service.
24/7 Emergency Flood Cleanup in Dundee
Pipe bursts and storm damage don't adhere to a 9-5 schedule. Neither do we. It doesn't matter when disaster strikes; you can always call 911 Restoration and hear a human voice on the other end of the line. Even at 2:00 in the morning and even on holidays. 
Time is of the essence when it comes to water damage. The longer water sits on your property, the more likely you are to wind up with warping, rotting, and mold contamination. Our water damage restoration crew acts fast to minimize damage. As soon as they arrive on the scene, they pack out your at-risk belongings and eliminate the water as quickly as possible. They do whatever it takes to get rid of moisture, including emergency boarding up, water extraction, and sewage removal. 
After the water is gone, the flood cleanup workers bring in heavy duty fans to dry the structure completely. If your home or business is left damp, that stored moisture could lead to long term damage. Of course, if you've had a more extensive form of water damage or a severe pipe burst disaster, damage may be unavoidable. In this case, our water damage restoration experts handle all repairs. They're equipped to fix anything, from a destroyed roof to rotted drywall. They even handle mold inspections and mold remediation themselves.
Don't settle for basic water clean up service. Call 911 Restoration of Portland for flood cleanup and a full water damage inspection.
Professional Mold Remediation in Dundee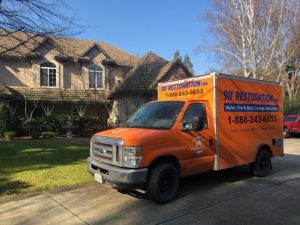 Mold contamination is a major concern among property owners in Dundee, no thanks to the wet weather. Fortunately, 911 Restoration provides affordable, effective mold inspections and mold removal service.
Before they do anything else, our mold remediation technicians conduct a thorough mold inspection. Even if you see mold growth in plain sight, a mold inspection is essential because mold reproduces through airborne spores. A colony on your wall could parent a second colony hidden in your crawl space. 
Once the mold removal experts are confident they've found every trace of fungus, they determine which type of mold they're dealing with. There are thousands upon thousands of mold varieties. Some are toxigenic (i.e. highly dangerous), some are pathogenic, and some are allergenic. Each type requires a specific type of care and caution during mold removal.
After the mold decontamination workers complete mold removal, they use special fans to dehumidify the structure where mold grew. Without this step, you're at high risk for a repeat mold infestation. Even after mold decontamination, spores may remain in the air. If those spores land on the same damp surface, you've got a mold problem all over again. 
Protect your health and your property and avoid the endless cycle of mold remediation and infestation. Call 911 Restoration of Portland for final, lasting mold decontamination.
Servicing the cities of Aloha, Astoria, Battleground, Beavercreek, Beaverton, Boring, Brush Prairie, Camas, Canby, Castle Rock, Clackamas, Clatskanie, Corbett, Cornelius, Dallas, Damascus, Dundee, Estacada, Fairview, Five Corners, Forest Grove, Gladstone, Gresham, Happy Valley, Hazel Dell North, Hillsboro, Hood River, Hubbard, Kalama, Keizer, Kelso, La Center, Lake Oswego, Longview, Manzanita, Marylhurst, McMinnville, Milwaukie, Molalla, Mount Angel, Mulino, Newberg, Oak Grove, Oatfield, Oregon City, Portland, Rockaway Beach, Salem, Salmon Creek, Sandy, Scappoose, Sheridan, Sherwood, St. Helens, Sunnyside, Tigard, Tillamook, Troutdale, Tualatin, Vancouver, Vernonia, Warrenton, Washington County, Washougal, West Haven-Sylvan, West Linn, Wheeler, Wilsonville, Woodburn, Woodland, and surrounding areas.