Water Damage and Mold Removal in Five Corners
Renovate your property after a flood, snow storm, or pipe burst in Five Corners. Secure a Fresh Start by working with the professionals at 911 Restoration of Portland. Get help 24/7/365 from IICRC certified water damage restoration and mold removal experts. Flood cleanup crews can reach your property within 45 minutes of an emergency call to:
Perform a water damage and mold inspection

Extract water from a flooded basement or crawlspace

Remove water left behind by a sewage backup

Take care of carpet drying and ceiling leaks

Repair leaking pipes, a pipe burst, or frozen pipes

Handle storm damage and ice dams

Complete mold remediation and odor removal
Take charge of your future now by reaching out to a mold and water removal company that will put you first. Speak with us to start flood cleanup and mold decontamination in Five Corners today. Crews begin going over your needs with a water damage and mold inspection.
Can You Get Emergency Water Damage Restoration in Five Corners?
A water damage emergency can strike without warning in Five Corners. You may need fast help if you have a pipe burst, a sewage overflow, or major flooding. In these situations, water damage restoration and mold removal professionals at 911 Restoration of Portland can handle:
Emergency water extraction

Emergency roof repairs

Emergency boarding up

Emergency packing out and storage of your belongings
Five Corners flood cleanup and mold remediation techs get to work in under an hour, limiting the total damage to your property. Let us jump into the restoration process by performing a water damage inspection. Water damage restoration crews can also check for fungal growth with a mold inspection in Five Corners.
Mold can grow quickly if you experienced business or house flooding. Let us take care of mold remediation and mold decontamination following a water damage emergency. Renovate your property with water cleanup services.
What Types of Mold Are Removed with Five Corners Mold Remediation?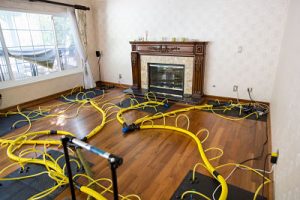 There are many different types of mold in the world around us. All types of mold can damage your property if they spread following a pipe burst, flood, or winter storm. Some types of mold – like toxic black mold – cause health problems as well.
Fortunately, mold remediation in Five Corners eradicates all types of mold. The mold removal techs at 911 Restoration of Portland are licensed, bonded, and insured to get rid of the fungus in your home or business. They can:
Quarantine areas with fungal growth

Get rid of mold spores using air filters

Scrub down surfaces exposed to mold

Clean any possessions infested with mold

Handle odor removal and mold decontamination
As a water extraction company, 911 Restoration of Portland can also repair the underlying cause of a mold outbreak. Let us repair pipe bursts, leaking pipes, and flood damage. Crews are prepared to begin thorough flood cleanup and mold decontamination in Five Corners right now.
Find out exactly how we can help you by allowing us to complete a water damage and mold inspection. Five Corners water damage restoration and mold removal techs personalize their services to bring your property back to perfect condition you deserve. 
Servicing the cities of Aloha, Astoria, Battleground, Beavercreek, Beaverton, Boring, Brush Prairie, Camas, Canby, Castle Rock, Clackamas, Clatskanie, Corbett, Cornelius, Dallas, Damascus, Dundee, Estacada, Fairview, Five Corners, Forest Grove, Gladstone, Gresham, Happy Valley, Hazel Dell North, Hillsboro, Hood River, Hubbard, Kalama, Keizer, Kelso, La Center, Lake Oswego, Longview, Manzanita, Marylhurst, McMinnville, Milwaukie, Molalla, Mount Angel, Mulino, Newberg, Oak Grove, Oatfield, Oregon City, Portland, Rockaway Beach, Salem, Salmon Creek, Sandy, Scappoose, Sheridan, Sherwood, St. Helens, Sunnyside, Tigard, Tillamook, Troutdale, Tualatin, Vancouver, Vernonia, Warrenton, Washington County, Washougal, West Haven-Sylvan, West Linn, Wheeler, Wilsonville, Woodburn, Woodland… and surrounding areas.