Water Damage and Mold Removal in Oak Grove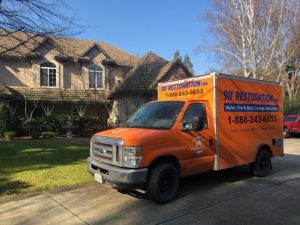 Are you dealing with damage from a snowstorm, flood, or pipe burst in Oak Grove? Get a Fresh Start in this situation by contacting 911 Restoration of Portland. Our water damage restoration and mold removal techs are IICRC certified and on-call 24/7/365. Allow us to:
Rush out to your property within 45 minutes of an emergency call

Offer you a water damage and mold inspection

Begin prompt water extraction

Dry out and fully dehumidify your property

Handle mold remediation and odor removal

Repair structural and aesthetic damage to your home or business
Flood cleanup and mold decontamination techs in Oak Grove are licensed, bonded, and insured to address your needs. Find out more about how we can help you by contacting us now for a water damage inspection and a mold inspection.
Does Insurance Cover Water Damage Restoration in Oak Grove?
A pipe burst, sewage backup, or house flooding can cause large amounts of damage to your property. Fortunately, your property owner's insurance may cover the costs for water damage restoration and mold removal in many cases. Insurance generally covers damage caused by:
An unexpected storm

A sudden pipe burst

Acts of vandalism
Most insurance in our area does not cover flood damage, unless you've purchased special flood insurance. However, professional water removal and mold remediation companies work hard to keep costs low as they renovate and repair properties like yours.
Let us assess your flood cleanup and mold remediation needs today. We can perform a water damage and mold inspection in Oak Grove to ensure all of your needs are addressed. Beginning Oak Grove water damage restoration and mold decontamination quickly can reduce the overall costs to restore your property.
How Do Techs Complete Mold Remediation in Oak Grove?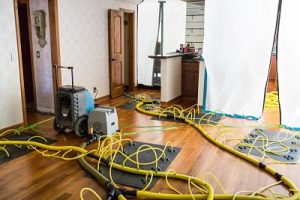 Oak Grove mold remediation is often necessary after a water damage event like a flood, pipe burst, or blizzard. Oak Grove flood cleanup and mold removal techs can complete this process by:
Performing an initial mold inspection

Using plastic sheeting to isolate areas with mold

Setting up air filters to remove mold spores

Disinfecting all surfaces exposed to mold

Cleaning up mold-infested possessions

Taking care of mold decontamination and odor removal

Finishing a final mold inspection to make sure your property is mold-free
As a full-service mold decontamination and water extraction company, 911 Restoration of Portland can address all of your property restoration needs. You can reach out to us today if you have a fungal infestation, leaking pipe, or sewage water backup in your property.
Flood cleanup experts can provide you with same-day water damage restoration and mold removal services here in Oak Grove. Speak to the pros at a mold and water removal company today to secure water cleanup services.
Servicing the cities of Aloha, Astoria, Battleground, Beavercreek, Beaverton, Boring, Brush Prairie, Camas, Canby, Castle Rock, Clackamas, Clatskanie, Corbett, Cornelius, Dallas, Damascus, Dundee, Estacada, Fairview, Five Corners, Forest Grove, Gladstone, Gresham, Happy Valley, Hazel Dell North, Hillsboro, Hood River, Hubbard, Kalama, Keizer, Kelso, La Center, Lake Oswego, Longview, Manzanita, Marylhurst, McMinnville, Milwaukie, Molalla, Mount Angel, Mulino, Newberg, Oak Grove, Oatfield, Oregon City, Portland, Rockaway Beach, Salem, Salmon Creek, Sandy, Scappoose, Sheridan, Sherwood, St. Helens, Sunnyside, Tigard, Tillamook, Troutdale, Tualatin, Vancouver, Vernonia, Warrenton, Washington County, Washougal, West Haven-Sylvan, West Linn, Wheeler, Wilsonville, Woodburn, Woodland… and surrounding areas.