Water Damage and Mold Removal in Vancouver
Floods, snow storms, and pipe bursts in Vancouver lead to water damage. Fortunately, you can get a Fresh Start following a water damage emergency by contacting 911 Restoration of Portland. Contact IICRC certified water damage restoration and mold removal crews 24/7/365 to get:
Professional help within 45 minutes

A thorough water damage and mold inspection

Assistance with water extraction

Dehumidification and water cleanup services

Mold remediation for commercial or residential properties
Licensed, bonded, and insured flood cleanup techs are trained to take on any form of property damage, including house flooding and pipe bursts. Let Vancouver water damage restoration and mold decontamination pros get started right now.
Why Start Vancouver Water Damage Restoration Right Away?
Beginning water damage restoration and mold removal in Vancouver quickly can reduce the overall damage to your property. Prompt flood cleanup from a professional water removal company can also lower the costs for property restoration.
Allowing a water extraction company to get to work quickly also increases the odds that you will avoid a mold outbreak following a water damage event, like a pipe burst or ceiling leak. Mold grows well in areas that are damp or dark.
Let us extract water, remove moisture, and repair your property right now. We can also perform a mold inspection in Vancouver to check for indications of a fungal infestation. If mold remediation crews find issues in your mold inspection, they can:
Isolate areas with mold 

Use air filters to remove mold spores

Scrub down infested areas to perform mold decontamination

Remove odors and unsightly mold stains
Will Vancouver Mold Remediation Get Rid of Black Mold?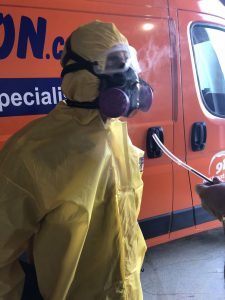 Black mold is a type of toxic fungus. This means that exposure to black mold spores or physical contact with the mold can lead to serious health problems. You should not attempt to handle black mold removal on your own, as this can endanger your well-being.
Fortunately, mold remediation experts in Vancouver can get rid of black mold for you. Let the flood cleanup crew at 911 Restoration of Portland determine if you're dealing with black mold with a mold infestation. 
We have the equipment and protective gear to handle comprehensive black mold decontamination in Vancouver. Mold remediation techs quarantine all areas with mold growth, disinfect your property, and perform a final mold inspection to ensure all signs of black mold are eradicated.
Make sure you are ready to get back your peace of mind following a basement flood, pipe burst, or mold outbreak. Contact Vancouver flood cleanup pros at 911 Restoration of Portland for same-day water damage restoration and mold removal services. Find out how mold decontamination pros can help by allowing us to perform a water damage inspection right now.
Servicing the cities of Aloha, Astoria, Battleground, Beavercreek, Beaverton, Boring, Brush Prairie, Camas, Canby, Castle Rock, Clackamas, Clatskanie, Corbett, Cornelius, Dallas, Damascus, Dundee, Estacada, Fairview, Five Corners, Forest Grove, Gladstone, Gresham, Happy Valley, Hazel Dell North, Hillsboro, Hood River, Hubbard, Kalama, Keizer, Kelso, La Center, Lake Oswego, Longview, Manzanita, Marylhurst, McMinnville, Milwaukie, Molalla, Mount Angel, Mulino, Newberg, Oak Grove, Oatfield, Oregon City, Portland, Rockaway Beach, Salem, Salmon Creek, Sandy, Scappoose, Sheridan, Sherwood, St. Helens, Sunnyside, Tigard, Tillamook, Troutdale, Tualatin, Vancouver, Vernonia, Warrenton, Washington County, Washougal, West Haven-Sylvan, West Linn, Wheeler, Wilsonville, Woodburn, Woodland… and surrounding areas.