How to Remove Blood from Carpet?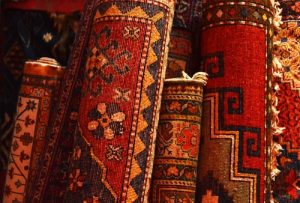 Out of all the things you can get on a carpet, a bloodstain is perhaps the most challenging one to clean. However, with a little patience, you can use the methods highlighted below to remove the blood stains from your carpet.
Call a Professional
When there is blood involved, it depends on what kind of situation you are dealing with. If it was a minor accident, you can deal with the situation yourself. However, if there is a proper blood clean-up involved or if it's a crime scene-, professional remediation services are a good way to go.
What are Remediation Services?
Remediation services or biohazard remediation are professional services to remove, clean, and disinfect blood, bodily fluids, and other harmful pathogens that may affect different areas of the house or a workplace after an accident, death, or even a disease outbreak.
Since there is a lot of risk of blood-borne pathogens, trained professionals in biohazard remediation use special tools and equipment to carry out the entire remediation process.
How Does The Remediation Process Work?
The team of licensed individuals carries out an initial assessment to evaluate the overall scene. They further carry out any cross-contamination protocols and secure the affected area from the rest of the house. Next, they work on removing any visible traces of biological materials such as blood. This is an incredibly dangerous and high-risk step of the overall remediation process.
After removal, the team cleans, disinfects, and deodorizes the affected surface using industrial quality cleaners and disinfectants. They also use adenosine triphosphate technology to provide hospital-standard disinfection services for their customers' homes.
Why Use Professional Remediation Services?
It is a wise choice to opt for professional remediation services because they are trained and licensed in handling blood and other bodily fluids. Here are a few reasons why you should consider a professional service:
They are trained in these particular scenarios
They are equipped with the latest technology and tools
They have industrial strength cleaning agents and chemicals to clean the surface
Not only do they remove the stain, but they also remove any blood-borne pathogens that may have infected your carpet
With their services, they can make your carpet look as good as new
Dealing With Blood Stains At Home
If what you are dealing with isn't an emergency or a grave crime scene or simply do not want to contact a professional service for a minor bloodstain, here are a few methods you can try:
Note: it is always advisable to let professionals handle bloodstain removal, mostly because of the chemicals involved in the clean-up and their professional service.
Use Cold Water
It is easy to remove fresh blood from your carpet if you run it under cold water. In this particular method, you will have to fill a spray bottle with cold water and spray down the stain. Once you have completely sprayed water over the stain, it is time to wipe it out using a dry towel. Repeat this procedure until the bloodstain is completely wiped off from the carpet.
Use Detergent and Water
For a bloodstain that isn't fresh, you can mix equal parts water and dishwashing liquid to clean your blood-stained carpet. For this method, you will have to soak a clean piece of cloth in the solution you prepared and apply it to the stain. Once you have completely covered the stain with a solution, you can use a scrubbing brush or toothbrush to get the stain out from your carpet. After scrubbing, you can use a wet cloth to rinse and pat down.
Use Ammonia and Water
Another effective way of removing blood stains from your favorite carpet is using an ammonia and water solution. You should stay away from woolen carpets if you intend on using ammonia because that may ruin the overall product. For this method to work, you have to mix a glass of water with two tablespoons of ammonia. Then, fill the solution in a spray bottle and apply it directly on the stain on your carpet. Once the stain is completely covered with this solution, let it sit for five minutes before wiping it down with a clean piece of cloth.
Wrapping Up
It is best not let blood stains sit on your carpet for an extended period of the tie because that just makes it even more difficult to clean. Professional remediation services such as 911 Restoration of Portland are a team of skilled and certified technicians to help you with all your biohazard clean-up, remediation services, and home restoration needs. With an excellent reputation and 45-minute response time, their professional team certainly knows what they are doing. From impeccable services to outstanding customer management, 911 Restoration is the way to go!