Mold Remediation and Health Concerns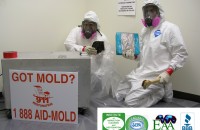 When a person speaks of mold or mildew they are usually thinking of it appearing in a home, or business, where there is a water leakage or moldy food. In truth, there are mold spores everywhere and they are spread by the air indoors and the wind outdoors. One of the most common problems, with mold or mildew, is the development of an allergy. Common signs, indicating a mold allergy, are things such as sneezing, nasal discharge, congestion and dry skin.
Although mold can be present indoors or outdoors, when it occurs indoors, it can be eliminated. It is usually detected by the appearance of black spots or brown/cream colored marks (usually on a wall or ceiling), or by smell. Many times this problem will occur from a leaky water pipe or in an area that 'sweats' from being near moisture, especially in laundry areas and bathrooms. It can also be caused by a HVAC (heating/ventilation/air conditioning) system that becomes mold contaminated.
Mold grows very rapidly once it gets started. It can cause absorbent or porous materials to be damaged to the extent that they have to be thrown away. This includes things such as carpets and ceiling tiles where it is impossible to remove mold completely.
Small mold problems can usually be handled by an individual by fixing the water problem, washing the area with Clorox, and drying completely. In such an event, wearing protective clothing and a mask is very important.
However, large problems, such as severe and sudden allergy reactions or a flooded area, require the expertise of professionals in the field. When the problem is discovered, they have the proper equipment to assure complete mold removal. Many companies take advantage of a mold inspection service to have routine inspections done in order to protect their workers. Should mold be discovered, a mold removal service is immediately put into action. This service is also available in homes and other locations.