Types of Smoke Damage – Preparing for The Next Portland Blizzard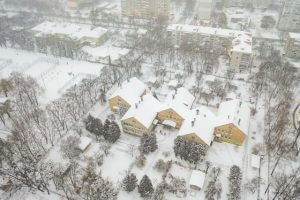 Due to the cold winter season, many families prefer to stay cozy indoors in front of their fireplaces and heaters. However, with excessive use of fire in the house, many properties are at risk of fire and smoke damage.
When a fire affects your home, the damage is more than what is directly charred by the flames; it leaves behind soot and lingering smoke that can cause more problems for the family living there. This article will focus on the types of smoke damage that can occur during winter and a few tips on how to safely protect yourself during a blizzard without your property catching fire.
If the unthinkable happens, there are reputable and professional restoration companies in Portland that can help you clean up the place and make it a safe place for you and your family to stay in. At 911 Restoration, we provide our professional staff and workers 24/7 and within 45 minutes of an emergency.
Types of Smoke Damage
Four types of smoke damage are commonly seen in damaged properties. However, you need to note that such damage is caused by different circumstances, such as the fire's location, temperature, and fueling materials. The professional team would then accordingly devise a restoration plan, and it varies slightly for each.
Dry smoke
Protein residue
Fuel/oil residue
Wet smoke
Dry Smoke
Fast-burning, high-temperature fires, usually fueled by paper or wood, produce this type of smoke. It has a powdery texture that makes it easier to clean and wipe than other types of smoke. However, this texture makes it easier to clean and wipe as it does not smear like other forms of smoke.
On the other hand, dry smoke can easily fall into cracks in walls and porous materials in your home and deposit deeply. Even if your home appears clean, smoke damage may still exist, posing a serious health risk.
Even if the smell isn't as strong as other types of smoke, but the smoke odor persists; that is why it's still crucial to reach out to a restoration company like 911 Restoration.
Protein Residue
When organic material evaporates during a low-heat fire, protein residue is formed. This type of smoke is commonly produced, primarily when a kitchen fire is caused by a cooking accident.
Protein residue is usually undetectable, and soot can be difficult to  detect afterward. However, if the smell lingers, it can discolor painted walls, varnished furniture, and other surfaces permanently.
The damage would be visible to a professional eye. That is why it is best to call 911 Restoration. If left untreated, the odor it emits is strong and unpleasant, and it can infiltrate the entire house.
Fuel/Oil Residue
This type of smoke damage is also known as petroleum reside, and it is thankfully not a common type of damage in home fires unless traces of petroleum caused the fire.
Because petroleum residue is sticky and dense, cleaning it can be difficult. If not handled properly, it can smear and spread to other surfaces. It also has a strong and unpleasant odor making it easy to detect.
Wet Smoke
Low-heat, smoldering fires cause wet smoke damage. This type of smoke is left behind when both plastic and rubber products are burned.
Even though the fire usually has fewer flames, the smoke is intense and strong. It produces a lot of thick, black smoke compared to the other kinds of smoke damage.
The smoke residue is sticky and dense, and it smears as you clean it. It is difficult to remove without special equipment, so it can completely cover and ruin your belongings.
Safely Preparing for Blizzard
In Portland, blizzards are a common occurrence during winter. That is why to keep yourself and your family safe during them, learn how to prepare for blizzards safely. Here are a few steps you should take:
1.     Stock Up on Essentials
Before the storm hits, you must have at least supplies of non-perishable foods, water, first aid supplies, pet supplies, batteries, canned heat, flashlights, candles, heating fuel, and any required medications in case you become trapped in your home by heavy snow, ice or fallen trees.
2.     Charge Your Cellphone
Be sure all your electronic devices are charged, and you have the contact numbers for friends and family members, your power company, and any other numbers that might be helpful. Having contact numbers at hand will make it easier to evacuate or call people in an emergency.
3.     Prepare Your Vehicle
Keep your gas tank full at all times in case of a snowstorm prevents you from going to the gas station. Other things you could do are get a winter tune-up, pack an emergency kit for your car and learn how to respond if your vehicle begins to skid.
4.     Storm-Proof Your Home
To protect yourself and your property during the blizzard, follow the steps given below:
weather-strip doors and windows
seal any air gaps
insulate pipelines
clear your rain gutters
inspect heating equipment or chimney
trim any tree branches
Safety Tip: Never use a generator, grill, gas, or oil-powered heater or camp stove indoors or in partially enclosed areas due to the danger of smoke damage, and always have a fire extinguisher on hand.
Call 911 Restoration
We're able to restore all types of smoke damage and damage to property due to blizzards. Call us at (503) 208-9780 in the event of an emergency!