Water damage restoration: challenges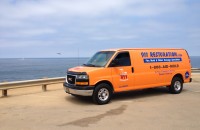 Water damage is serious and can be one of the worst things that can happen to your home. Water damage in the home can create problems with mold and mildew which can eventually lead to health problems. It can also create stains and cause permanent structural damage to your home. One of the main challenges of water damage restoration is that time is of the essence when it comes to cleaning up the water. The homeowner need to detect where the water is leaking from so that it can be stopped immediately. If this is not done, moisture can collect allowing mold to develop which can cause further damage to your home.
Once a homeowner notices water bursting, they should immediately stop the water at it's source, remove any existing water, check for mold, ventilate any affected areas in your home and contact your insurance company regarding the water damage. It is important to notify your insurance company about this damage even if you do not have a policy covering water restoration service in your home. Your insurance agent can be very helpful in finding a company that specializes in water damage cleanup in order to help you repair the damage that has happened to your home. Most of all, if you have experienced any damage to your home caused by water, it is important to find someone who is a professional and who can help clean up and restore the damage to your home at an affordable price.