Mold Remediation: An Overview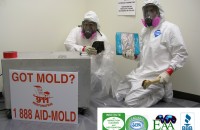 As soon as mold is discovered within a property, it should immediately be taken care of. If the problem is not taken care of in a timely fashion, the mold growth can cause irreversible damage that could cause the property to be condemned. Mold growth can occur within the home, as well as on the exterior of the foundation. There are various causes for mold growth, and a multitude of mold spores might be present, depending on the specific location.
Areas in which various mold growths can commonly be found includes the notorious basement area, attic, inside bathrooms and kitchens, around pipelines, ductwork, water heater appliances, around window frames, and can even be found residing under carpets, or behind the drywall of a home. Mold is able to grow well in these areas because there is minimal ventilation, if any at all; furthermore, the areas where mold is commonly found is mostly damp, and dark.
The most important reasons to remove mold promptly is because it can also have an effect on people's heath as well. It is also for this reason that a homeowner leave mold removal to the professional services of a mold removal team. Mold removal teams possess trained technicians who are knowledgeable on the various types of mold varieties, the threats they pose, and the correct process for removing the mold. Also, professional teams come equipped with the right tools they need to thoroughly perform the job.
Professional mold removal technicians begin the process by surveying the structure of the home, along with gathering prior information about the property. The next step of the process is for the mold removal team to take swab tests of the mold, send them to a laboratory for testing, and wait for the results. Upon verifying the type of mold species that is present, the team will then know the severity of the situation they're dealing with.
The removal process will then be performed by removing any items from the home that are not affected, and then the mold will be removed from the specific areas in the home. After the mold has been removed, professional cleaning and sanitation chemicals will be used to clean the affected areas, and this will also help to prevent mold from re-occurring in the future.