Portland's Sewage Backup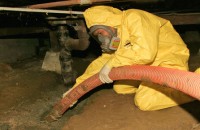 The beautiful tree lined streets of Oregon come at a price – a great deal of rainfall. This was especially apparent in March of this year, which produced the rainiest March day since rain records of 1940. This has been reported on by Andrew Theen, an Oregonian Newspaper reporter who reported on the city's sewer overflow into the Willamette River on March 28 of this year.
He reported that to prevent such an event the city installed a $1.4 billion Big Pipe project in 2011. Prior to that time, there was an average of 50 sewer overflows a year in the city. Although the system was designed to handle 1.2 inches during a 48-hour period, the actual amount of rainfall was 1.69 inches during this 24-hour period.
Know When to Call a Professional
A sewage backup can cause many problems in both households and businesses. Sewer contents include health dangers such as bacteria, parasites, diseases, viruses and so forth. This is why it is vital that anyone experiencing a sewage backup problem in their home or business contact a professional company immediately. They will have the materials and equipment to remove the excess water, dry out the area and be sure that it is free of any contaminants.
A company experienced in this type of problem will be able to immediately access the damage and explain what action needs to be taken. In addition, they will be able to deal with your insurance company directly, thus saving time and money.
There are specific steps that should be taken by a homeowner when there is notification of a predicted sewer overflow. These include putting all valuables and salvageable items in a high location, or out of the area, as a sewer overflow in a home or business usually only covers a few inches of floor space. Of course, there should be no contact with the sewage by pets, children or occupants of the building. This means evacuation of the premises by everyone until the problem can be taken care of.
Listen to Local Warnings
The sewer system of Portland, as well as other cities, is designed to transport fecal materials to plants for proper treatment. When this system overflows, it exposes all residents and animals in its path to diseases as well as property damages.
This city has an excellent system for notifying its residents when such an event is going to occur. This allows plenty of time to take care of protecting one's possessions, packing necessary items and going to a location that is out of the path of the sewage backup. Portland residents who are aware of this particular problem have a plan in place for such an occurrence. This allows them to have a cleanup arrangement in place and protects them from having to replace valuable items.